At AppFoundry we're very proud to have been able to work together with Belfius in making this possible. Dirk Vranckaert, senior Android developer at AppFoundry and driving force behind our adoption of Android Wear technology, will briefly explain what 'wearables' are all about and how the project at Belfius came to fruition.
A short introduction to wearables
2014 was an important year for wearables. Google released 'Android Wear' and Apple announced the 'Apple Watch'. But what do smartwatches have to offer us and how does it work? At the moment it looks like your watch is an accessory for your phone. You'll still need a smartphone to install & use smartwatch apps. However, this is most likely to change in the future, when standalone apps will be made possible. Some ways of interacting with a smartwatch:

Looking & glancing: interacting with the actual smartwatch app vs. getting a quick view of the currently most important content
Acting on notifications: issued via sound or soft vibrations, only noticeable to the wearer
Touch interactions: tapping, swiping, ... with haptic feedback
Voice commands
Hardware buttons & dials: e.g. the Apple Watch 'digital crown'
NFC: Read/Scan NFC tags
Connect with other Bluetooth devices
While you can achieve awesome things with a smartwatch, in the end it's not a very powerful device. You should regard it more as an extra screen that users consult or glance at before turning to the companion smartphone app. The phone will be doing all of the work. In 99% of the wearable apps the phone is responsible for processing data while the watch only handles view logic and user interaction. This view logic can be in the form of a simple notification, an entirely customized notification or a full-blown wearable app. At the time of writing, the Apple Watch has not yet been released but developers can already start experimenting with the recently released 'WatchKit' SDK. Google released its Android Wear platform in March 2014. Currently LG, Samsung, Motorola and Sony offer Android Wear smartwatches, available for sale in different colors and shapes.

Case: Belfius Direct Wear
At AppFoundry we had already started experimenting with the preview SDK when Google announced the first official 'Android Wear' release. We immediately started looking at opportunities for our customers. Driving factor behind this research is Dirk Vranckaert, who is also working on the Belfius Android team. When Dirk voiced the idea of a balance checker smartwatch app and showed the team at Belfius a small proof of concept, they were immediately interested. Belfius, being a longtime and very innovative player in the mobile market, was eager to investigate this new and interesting technology. The idea was launched, reactions were positive and the project got approved! In two weeks time Dirk, along with the bank's UX/UI and Android team, developed the 'Belfius Direct Wear' application, fine-tuned and bug-fixed it. The resulting product is a great example of how (parts of) an existing mobile application can be ported to a wearable app while taking into account the limited available resources and small screen size.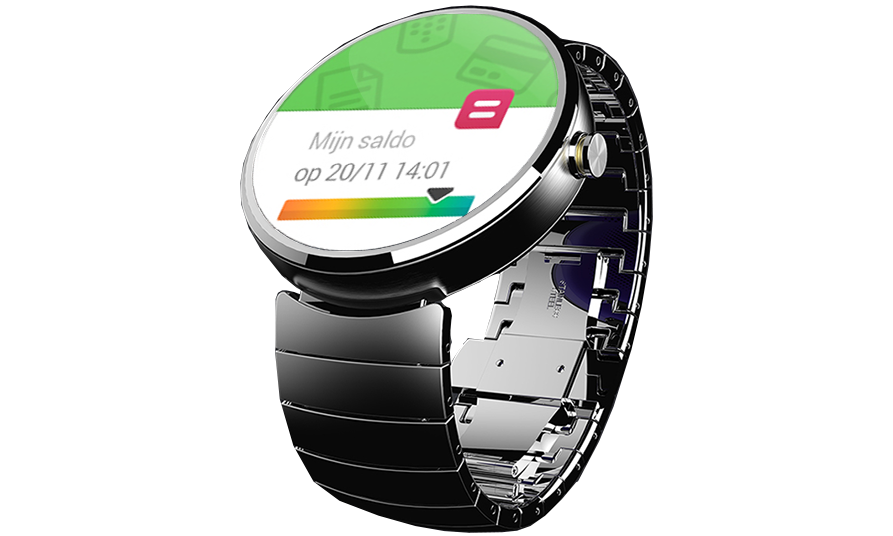 Other Opportunities
'Belfius Direct Wear' is a great idea for a smartwatch app! And there are much more scenarios in which this technology can be applied. Just to mention some:

the security sector, where agents need to pass checkpoints, and check in with their phone/watch, receive quick notifications on their watch, etc.
the medical sector, where doctors or nurses receive notifications about a patient's needs or receive the latest status update when they walk into the patient's room.
festivals, where the audience might receive updates on who's performing next on which stage, or where an entry ticket could automatically show up on your wrist while you walk through the check-in gate.
payment situations, where the smartwatch communicates with payment terminals.
In other words, there are plenty of possibilities in which wearable applications can be really useful and can simplify some of the flows in your business.
What will the future bring?
We are eagerly awaiting the arrival of the Apple Watch in early 2015 and are very interested in the impact it will have on the general acceptance of smartwatch usage. There are a lot of different statistics out there about how the smartwatch market share will evolve in the next few years. However, there's one thing they all have in common: their market share will grow. So in order to keep your customers happy, to keep being innovative or simply to enhance your business flows, think about jumping on the wearables train! And when you do, give us a call. We'll get you started and up and running in no time!