The Challenge
At the beginning of 2020, AppFoundry was contacted by bicycle leasing pioneer Cyclis.
At that time, the innovative and very successful bicycle leasing scale-up was working with an all-encompassing ERP/CRM package. In addition to basic ERP and CRM functionalities, this system was also used as a platform for the company website and various customer portals.
Unfortunately, for a rapidly growing company like Cyclis, this approach resulted in a number of undesirable limitations, especially in terms of end-user experience.
The ERP/CRM system had been heavily customized and expanded to the specific wishes of Cyclis. Unfortunately, this all-in-one solution, like many similar major platforms, started to show clear limitations on a customer facing level. Due to ever-growing and larger customizations, the workload for building and maintaining this system also increased, with a negative impact on growth opportunities and time to market as a result.
The challenge for AppFoundry:
a full redesign
developing a new all-in-one digital journey
disconnecting the frontend experience from the ERP and redesigning the entire customer experience (web portals for cyclists, HR's and bicycle dealers, ...)
a correct, safe and scalable integration with the existing ERP system
putting in place a stable foundation for future ideation and development alongside the existing ERP system
reducing time-to-market for new ideas and initiatives in IT and marketing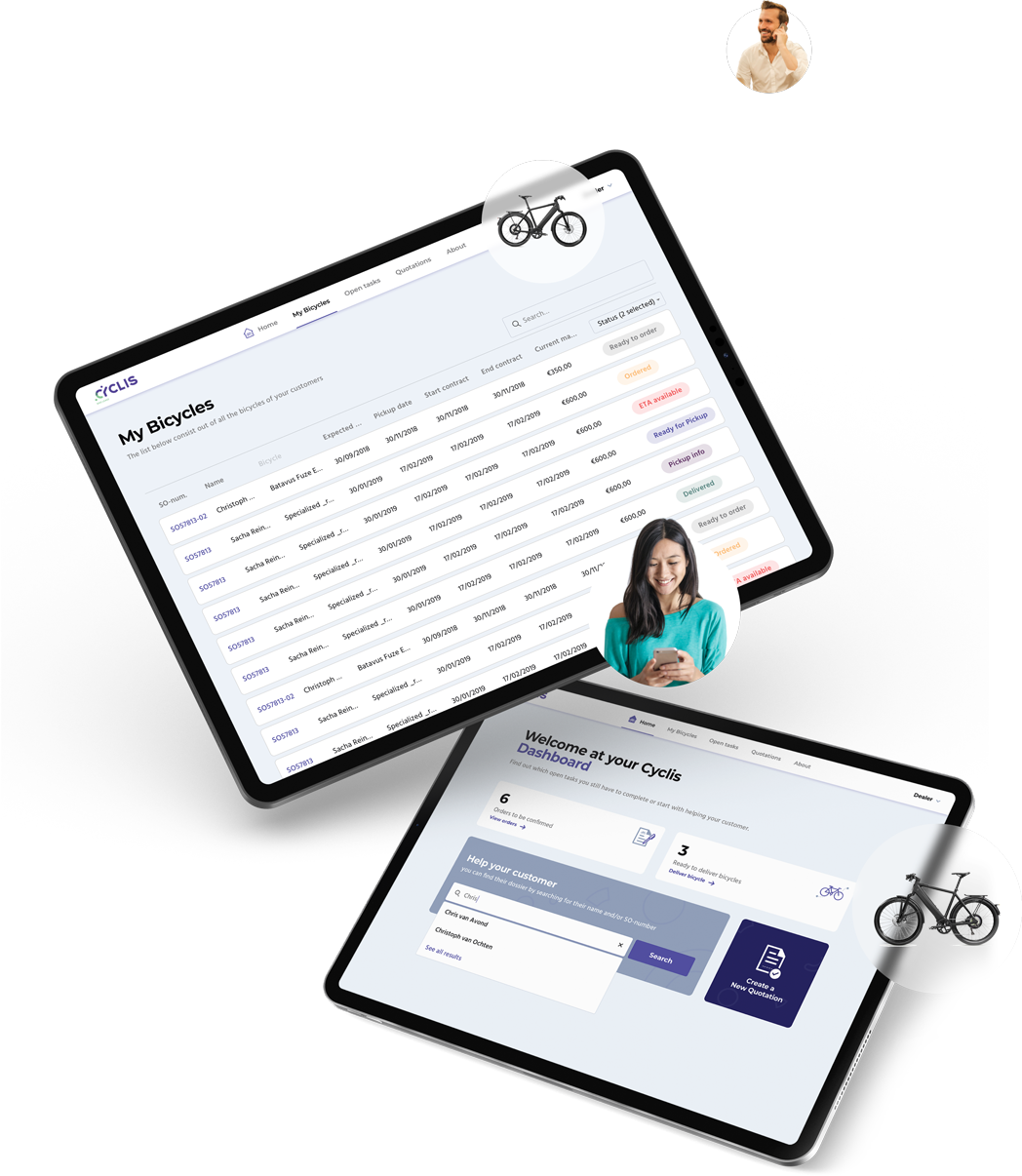 Our Solution
A smooth digital transformation of the existing customer-facing situation to a new, custom-made, mature and scalable solution.
A series of ideation-, concept- and technical workshops laying the foundation for the solution to be built:
Redesign
Cloud native Node.js middleware layer hosted on Microsoft Azure
Three statically generated web applications based on React and Gatsby.
The customer portal for cyclists
mobile-first design
create simulations and quotations
follow up on the order process
reporting and following up on insurance cases
all data always at hand
The customer portal for fleet managers
consult and approve lease quotes
overview of all contracts
export orders to Excel
handling end of lease
The dealer portal
Confirm, follow up and deliver orders
Overview of all current contracts & maintenance history
Follow-up insurance cases
Paperwork reduced to a minimum
The Result
AppFoundry is happy to have gained a very satisfied customer with, perhaps even better, very positive feedback from their end users. Cyclis' expectations were easily exceeded. Our professional total approach was especially appreciated.
AppFoundry is proud that in times of Covid-19 this project could be started and delivered almost completely remotely without any undesired impact. On the contrary, our new approach to remote teamwork and ideation workshops has been very positively received!
A first release was ready in 7 months, perfectly on time and ready for further growth.
We are still the preferred supplier to Cyclis for design, maintenance and new ideation + development.